Do you dislike having discolored teeth? Do you desire a whiter, more radiant smile? Dr. Andrew Dyer and our dental care team at Dyer Family Dental offer teeth whitening in Horizon City, Texas. Many patients take advantage of this opportunity and enjoy brighter, gleaming smiles.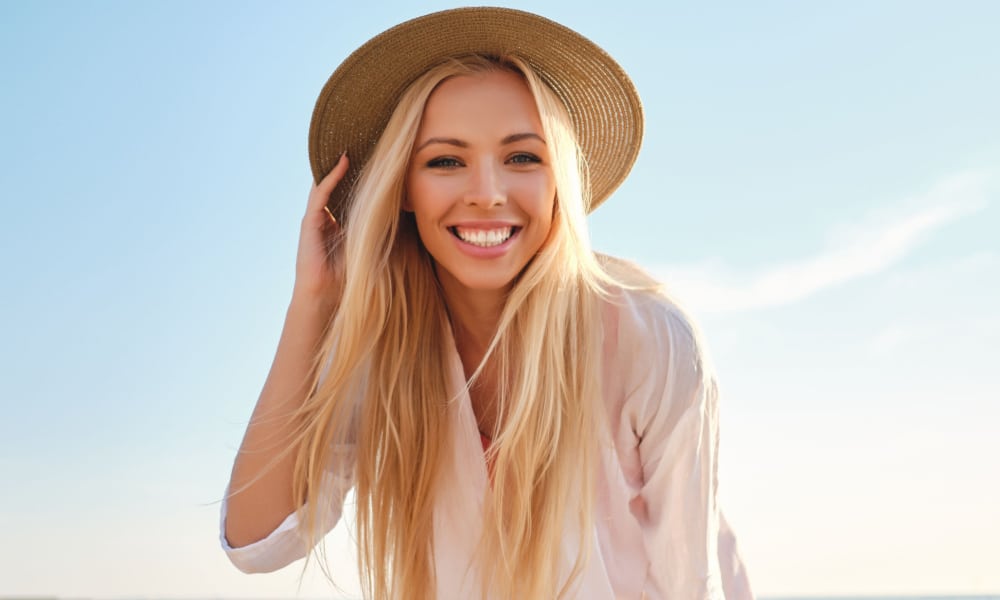 What is Teeth Whitening?
A dental procedure called teeth whitening helps to enhance your teeth' overall shade and appearance. The repeated consumption of certain foods, beverages, or cigarette smoke can dull or discolor teeth, causing them to lose their original luster. Whitening your teeth restore their natural brilliance and make stains and discolorations less noticeable. With a properly applied teeth whitening procedure, your tooth's color might be lightened by one to two shades.
Why Should I Get My Teeth Professionally Whitened?
Although numerous teeth-whitening products are available for at-home use, having the treatment done at a dental office is safer and will produce superior results. The whitening chemicals used by dentists are significantly stronger and activate more quickly; thanks to our professional protection measures, the enamel of your teeth and the rest of your mouth are shielded from the whitening agents' power. A single office visit can safely transform your smile.
What Are the Benefits of Teeth Whitening?
Teeth whitening is a popular cosmetic dental procedure with various benefits. The most significant benefits of teeth whitening include the following: 
Teeth whitening can boost your self-confidence. If you have ever felt self-conscious about your teeth, teeth whitening can help you feel more confident in your smile. 

Teeth whitening can make you look younger. A brighter, whiter smile can help take years off your appearance. 

Teeth whitening can help you to look more professional. In today's competitive job market, looking your best is essential. Having white teeth can give you the edge you need to land the job of your dreams. 

Teeth whitening can improve your social life. If you have ever avoided social situations because you were embarrassed about your teeth, teeth whitening can help you feel more comfortable. 

Teeth whitening can be a fun and relaxing experience. The teeth whitening process can be an enjoyable way to pamper yourself and achieve the beautiful smile you have always wanted.
Our Teeth Whitening Options
We offer both in-office and take-home whitening services. Please schedule a whitening consultation to discover which whitening treatment will be right for you.
Why Choose Dyer Family Dental for Teeth Whitening?
Brightening your teeth at our dental clinic is a good choice since our highly trained staff knows what to do. Clinic staff will assist patients by:
Providing sound advice about how to whiten teeth

Providing professional treatment

Giving patients the whitest smiles possible
Patients looking for Horizon City, TX, teeth whitening can call Dyer Family Denta for high-quality service. Our friendly and helpful office staff provides a relaxed environment for patients' comfort while they whiten their teeth. You will love how beautiful your smile looks afterward. Call today to schedule a time for whitening your teeth.
Teeth Whitening and More in Horizon City, TX
Dyer Family Dental is here to help you and your family with all of your dental needs! We specialize in general dentistry, preventative dentistry, and helping patients smile. 
Patients who wish to acquire a brighter smile have access to a wide range of products and treatments, and with so many alternatives available, it can be challenging to select the one that is best for you. The best way to start any teeth-whitening regimen is to make an appointment and discuss the differences between professional in-office and at-home whitening with Dr. Dyer. Schedule a teeth whitening consultation in Horizon City today.